🧘‍♀️ Find on this page all essential information for serene holidays at Parc des Maurettes, despite the health crisis Covid-19. 🙏

Changes in our cancellation conditions
Implementation of our health protocol
The advantages of outdoor holidays !
Our cancellation conditions have changed !
In view of a difficult health and economic situation, we have improved our terms and conditions of sale. They seem to us well-balanced despite the uncertainties for all of us !
✅ More flexibility for you,
✅ A vital protection for our establishment,
✅ Well-balanced measures for everyone !
Which changes Special Covid-19 have been set up ?
In case of general travel restrictions (confinement, curfew, border closure, isolation on arrival, etc) or forced closure of the campground due to the pandemic of coronavirus, the already paid sum for your stay will be converted in a Credit note with the same value, usable for a future stay of your choice. This credit note is valid for 18 months. After this maximum lapse of time, if you have not spent your vacation with us, the refund is guaranteed.
The considered amount for the credit note is as follows :
In case a stay is completely cancelled before arrival, it's the reservation down payment ;
In case a stay is interrupted on site, it's the amount corresponding to the non-accomplished part of the initially reserved stay.
Examples of what is covered by this mecanism :
Arrival on the campsite impossible due to circulation restrictions between your place of residence and the camp ground.
Premature departure due to a restriction in your home region which obliges you to regain it earlier than intended.
Restricted comfort of vacation due to local limitations (insufficient tourist offers, restaurants are closed, etc)
 Examples of what is not covered by the credit note principle :
Our regular cancellation conditions will normally apply.
Individual medical reason, even if there is a COVID-19 or contact case among the participants.
In this case, we recommend to take out a corresponding insurance, at your convenience, at the moment of reservation.
No valid Health Pass, if it becomes mandatory for access to the campsite. For the moment, it is only necessary for access to the Balneo area. Without the Health Pass, no compensation can be requested for non-accessible campsite services.
Constraint of travelling outside the period of reserved holiday. Indeed, if you anticipate a cancellation without constraint directly related to your reservation dates, you will not benefit from our conditions.
Technical note:
A proof of traffic restrictions must be provided with your cancellation request, in particular if these are decisions outside France or local outside the Alpes-Maritimes. A web link to a politician's public announcement may be sufficient. The restrictions concerning the geographical areas of the domicile, those of the campsite (Alpes-Maritimes) and the areas which must imperatively be crossed during the trip are valid as a reason for cancellation.
This adaptation to the current context has not yet been incorporated into our contractual conditions (because it requires detailed legal drafting), but this announcement represents a formal commitment that we will honor.
We hope that this information will give you confidence in the future and that you will come to the French Riviera with confidence. We know that the potential immobilization of your deposit for 18 months is an effort, but this time is essential for the survival of our business in the event of massive cancellation of our clientele. This period is necessary to anticipate the adequate cash flow. Thank you very much for your understanding and solidarity ! 💖
---
Discover our health protocol (validated on national level)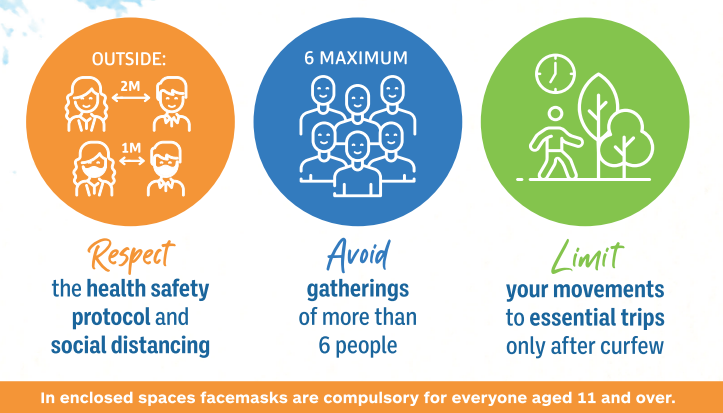 Rules that have to be complied with
Outdoors (alleys, children's playground), let's respect the « Hands-Face-Space » rules. Mask if distance is less than 2 meters.
On your pitch, the same as at home, let's avoid a get together of more than 6 people.
Indoors, in common rooms (sanitaries, reception), the mask is compulsary from 11 years on.
As long as the curfew is in effect, let's limit our promenades within the campground to a minimum.
Special case for the wellness area
HEALTH PASS: Mandatory from August 1, for people 18 and over.
To regulate the afflux to the spas and sauna, we will invite you to apply a self-regulation rule at the entrance through a time table. Each day, you will be able to reserve a free time slot with your name. The slots available will depend on the authorized tonnage. For example, with a legal gauge of 35% (May 2021), only one family per time slot will be able to enjoy the entire space (a free private spa!).
The other usual rules continue to apply: short-swimsuits and shower gel prohibited! Think about it when packing.
We thank you in advance for playing the game of self-regulation (the experience in 2020 was overall a success). If you need us, we will be present at the reception and via the video surveillance of the Relax'Balnéo area.
One last advice : enjoy and relax !!
Hygiene measures in the rentals (chalets, mobilhomes, studios)
When cleaning our rentals, we use a virucidal product adapted to the fight against the coronavirus.
Our team pays a particular attention to the delicate zones (switches, handles etc).
The beddings are equipped with single-use mattress pads and pillowcases (this is not ecological, but hygiene has priority!). Blankets and sheets (optional rental) are washed at high temperature and separated by protective films.
During the inventory on arrival and departure, we will respect the use of the mask and limit interactions with the equipment, because it will now be YOUR personal environment.
We are counting on your civility to return your rental as clean as possible: this will help us ensure efficient cleaning in high season and optimize the time between 2 client occupations. Indeed, we try to leave a maximum of free time between 2 stays, thus reducing the potential presence of the virus.
Outside the campground
Traffic rules and protective measures (wearing a mask) may change according to prefectural decisions. We will try to keep you informed by posting a notice at the campsite reception.
Since may 4th 2021, all over the French Riviera, wearing a mask is no longer compulsory in green spaces and beaches.
Just like inside the campsite, we count on your common sense and the respect of others to intelligently assess risky situations (frequented markets, etc).
---
The advantages of Open Air Holidays
You still hesitate to spend your holidays on a campground ? So let us list some precious trumps…
On the campground, you live open air practically all day long ! And the weather forecast in the Southern region can guarantee that. 🌞
Conviviality and tolerance towards others are in the DNA of our establishment: camping means also "get to know each other" ! 👐
A stone's throw from the campsite, you will already find a good number of activities: the Vaugrenier departmental park is 300m away, the sea 500m away as well as beautiful cycle paths! 😍
The cultural wealth of our coastline is well known (Nice, Monaco, Cannes), but if you want calm or a swim in the river, know that the pretty hilltop villages of the hinterland are just a few kilometers away. The French Riviera means also the Alps within reach ! 🌄
Choose quickly your accomodation and have great holidays !!!

---