A different type of camping in Villeneuve-Loubet
Do you love walking? Do you love getting away, but prefer to travel light? If so, then we at Camping Park Maurettes would like to welcome you to our forest park where we have 4 ready-pitched tents complete with twin beds and a kitchenette. Each tent is of a rigid construction, rather like a cabin. Amidst a green oasis, you can enjoy plenty of fresh air as well as your own cosy cocoon.
Are you staying for one night or longer? You choose the period that suits you. Unconventional, inexpensive, our alternative rental accommodation is completely flexible.
An alternative form of accommodation
Unforgettable holidays on the Côte d'Azur
Situated at the heart of the Côte d'Azur, our family camping park is close to some of the region's most beautiful parks. The Mercantour National Park, an area of outstanding natural beauty, is home to a rich, diversity of flora and fauna and a place where you can totally escape and experience nature's riches. Perched high above the Mediterranean Sea, the rocky outcrop in the regional National Park of Sainte-Baume offers a magnificent 360° panoramic view.
A unique night beneath the stars
What could be more romantic than spending a night beneath the stars? Our hiking tent is an alternative and cosy style of accommodation that welcomes holidaymakers to a green oasis, ideal for escaping the pressures of everyday life and unwinding.
Comfortable holiday rentals
All our holiday rental accommodation includes access to our various amenities, such as washroom facilities and launderette, as well as a number of activities. Our "Relax'Balnéo" spa is free of charge and includes a jacuzzi, spa pool and sauna. You are also free to use the shared barbecue areas, pétanque piste and relaxation room. All our tent pitches are shaded from the sun and well away from motor vehicles, ensuring you enjoy maximum peace and tranquillity.
Escape to the unspoiled world of nature, enjoy evenings with friends, melt away your stress in the jacuzzi. Enjoy an original holiday at our comfortable camping park!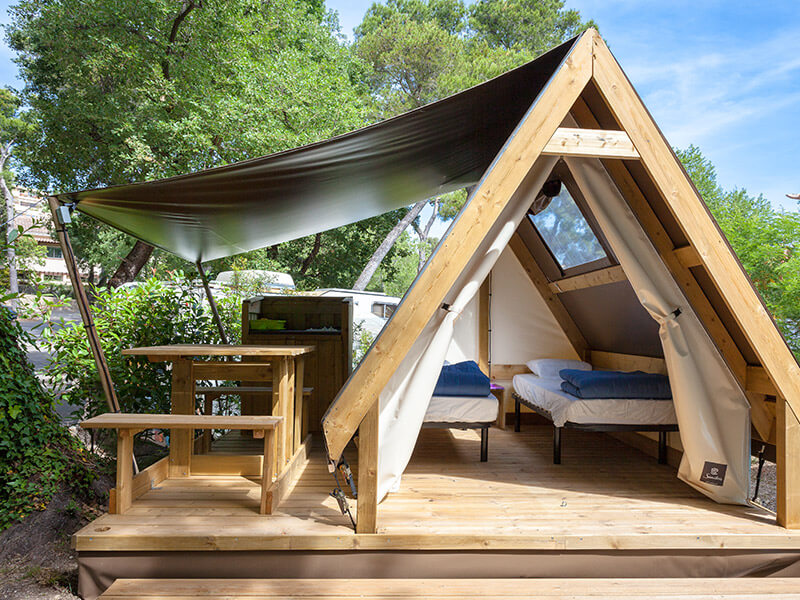 Are you interested in a different type of accommodation?